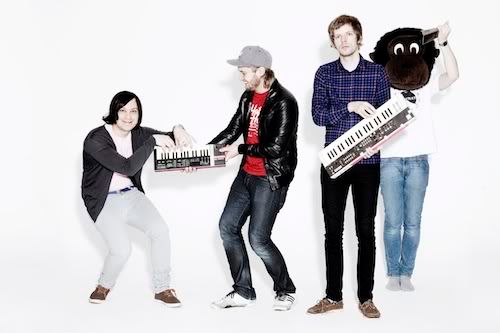 In support of the recent release of their US debut Topp stemning på lokal bar (Polyvinyl), Bergen, Norway's Casiokids will be heading to the states this August. They'll be returning to North America after a tour that led them down to SXSW this past spring. Recently hitting #29 on the CMJ Top 200 charts, Topp stemning på lokal bar features the incredibly catchy dance-floor single, "Fot i hose (Fits like a glove)", as well as "Finn bikkjen! (Find the dog!)", whose surreal, dance-filled video premiered on Pitchfork (all available for posting).
Before heading out on tour, Casiokids will release a digital single for their track "En Vill Hest" due August 10th (Polyvinyl).  The single will feature the album version of the track, remixes by both diskJokke and Prins Thomas, and a music video.
Discovered by former tour mates (and now labelmates) of Montreal, Casiokids put on a theatrical live show — incorporating a blend of shadow puppets, video projections and animal costumes — that is not to be missed. Whether playing for the truly young (as during a 12-date kindergarten tour in Norway) or the young at heart (at almost all of Europe's largest festivals and on tour with Hot Chip), Casiokids generate the kind of unrestrained party mood that inevitably transforms any audience into a joyous, dancing mass.
Casiokids will be announcing more US dates shortly, bringing their frenzied live show far and wide.
Casiokids Tour Dates:
Wed 8/18 – San Francisco, CA – Cafe Du Nord
Thu 8/19 – Portland, OR – Mississippi Studios
Fri 8/20 – Seattle, WA – The Vera Project
Sat 8/21 – Vancouver, BC – Media Club
Tue 8/24 – Minneapolis, MN – 7th Street Entry
Wed 8/25 – Chicago, IL – Schubas Tavern
Thu 8/26 – Detroit, MI – Magic Stick
Fri 8/27 – Toronto, ON – Supermarket
Sat 8/28 – Brooklyn, NY – Glasslands
Sun 8/29 – Philadelphia, PA – Kung Fu Necktie
Mon 8/30 – Washington, DC – DC9
Fri 10/8 – Los Angeles, CA – Spaceland
En Vill Hest Tracklisting:
1. En Vill Hest
2. En Vill Hest (diskJokke Remix)
3. En Vill Hest (Prins Thomas Remix)
4. En Vill Hest Music Video