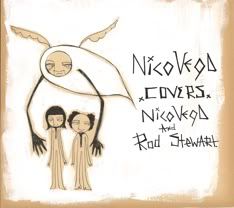 (Los Angeles, CA) — Nico Vega have released their new EP, Nico Vega Covers Nico Vega And Rod Stewart this week exclusively at NicoVega.com. The EP features a refreshed collection of the band's select familiar songs as well as a cover of Rod Stewart's, "Young Turks." From the beat dropping electronica version of "Million Years" to the twanging outlaw country, "So So Fresh," Nico Vega have a collection of six great tracks.
Nico Vega Covers Nico Vega & Rod Stewart track listing:
1. "Million Years" – Electronica
2. "Young Turks" – Rod Steward
3. "Beast" – Folk Blues
4. "Gravity" – Acoustic
5. "So So Fresh" – Outlaw Country
6. "Wooden Dolls" – Acoustic
To celebrate the new release, the band has offered free downloads at NicoVega.com. The band has asked fans to perform their own version (with friends, acapella, on the violin, piano, etc.) of Nico Vega's song, "Gravity," Nico Vega Karaoke style. Fans can film their performance and post their respective YouTube link on Nico Vega's Facebook page. At the end of the contest (January 21st) the one with the most "views" will win a Nico Vega prize package including a signed album, an exclusive t-shirt and will have their video featured at NicoVega.com as well as on the band's Myspace, Facebook and YouTube pages.
To learn more about the new EP and Nico Vega Karaoke watch this short message from Nico Vega on YouTube.
Nico Vega is currently in the studio working on their next full-length album with an expected release spring 2011. For more information on Nico Vega, please visit www.nicovega.com.